I've read a few recipes over the last couple of years with this same intriguing title, and tried a few. Haven't posted any. But this one from the March Bon Apetit lives up to it's name in my opinion. Just thick bone-in pork chops sauteed in a skillet with sage, garlic and a bit of butter; turned often until they have a golden brown crust and an evenly cooked pink interior. The pan sauce created is wonderful; don't omit the butter as the small amount that makes it into your mouth adds so much flavor.
1 tbs. vegetable oil
2 1 and 1/2 inch thick bone-in pork rib chops (8-10 ounces each)
Kosher salt, freshly ground pepper
8 sprigs sage
2 garlic cloves, peeled, smashed
1 Tbs. unsalted butter
Heat oil in a large skillet over medium-high. Season pork chops all over (including the fat cap) with salt and pepper. Cook pork chops until bottom side is golden brown, about 1 minute. Turn and cook on the other side about 1 minute before turning again. Repeat this process, turning about every minute until chops are deep golden brown and an instant-read thermometer inserted into the thickest part registers 135 degrees, 8-10 minutes. (Cooking time will depend on thickness of chops.)
Remove pan from the heat and add sage, garlic, and butter, smashing the garlic into the butter. Tilt skillet and spoon foaming butter and drippings over pork chops, making sure to baste the fat cap as well as the rib. Transfer pork chops to a cutting board and let rest at least 5 minutes (pork will come to 145 degrees as it sits.)
Cut away bone and slice pork about 1/4 inch thick. Serve with any juices from the cutting board spooned over the top. Serves 4.
Note: Whoops! As I typed this I noticed "serves 4" for the first time. Served 2 very happy campers in our house!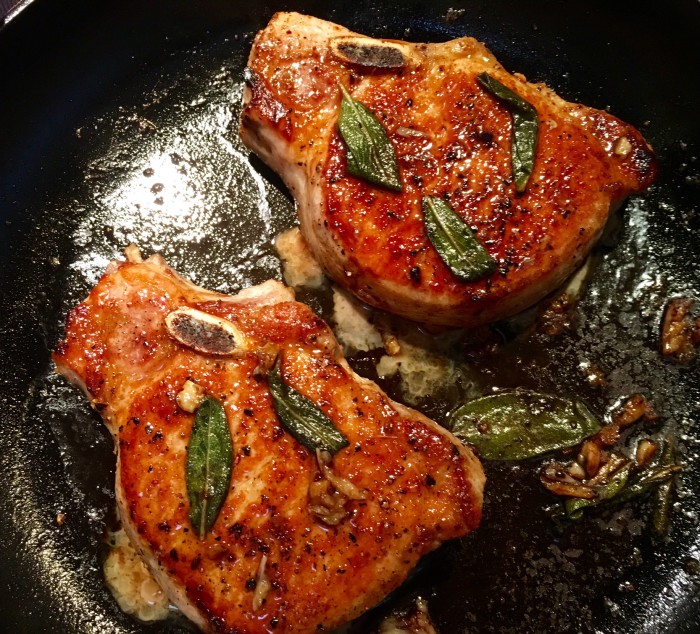 { 0 comments }