It was painful returning to sweltering San Diego on Monday. We spent the loveliest of Labor Day weekends in Lake Tahoe where the crisp fall air required a jacket in the morning and evenings…Heaven! I am always amazed at how effortless our friends Terri and Bill make entertaining housefuls of people for days on end appear. Meal after wonderful meal! Flying home out of Reno we were surrounded by folks headed home from Burning Man, covered with white thick dust and looking exhausted and slightly traumatized. I may be too old for that adventure….
This recipe was an appetizer we tried and decided was a keeper. Easy to make, fresh tasting and practically a meal in itself if you needed it to be. Credit goes to the website Smittenkitchen.com, which is terrific. Check it out!
1 pound small shrimp, shelled and deveined or pre-cooked and defrosted
2 firm-ripe avocados, halved, scored into a small dice
2 cups grape tomatoes, quartered, or 2 cups chopped tomatoes, drained a little
1/2 small white onion, very finely chopped (use red if you can't find white)
1 small jalapeno, seeded and finely chopped (optional)
Drizzle of olive oil
Juice of 1 to 2 limes
Salt
Handful of cilantro leaves, roughly chopped
Hot sauce, on the side
Tortilla chips, to serve
To cook the shrimp: Bring salted water to a boil and turn off the heat. Add shrimp, cover pot and let stand until firm and pink, about 5 to 7 minutes. Drain shrimp, pat dry and chill.
Make salsa: Chop shrimp into small bites and put into medium bowl. Scoop avocados into bowl. Add tomatoes, white onion, jalapeno (if using, to taste) and a drizzle of olive oil. Add the juice of one lime, and a second one, if needed. Add salt to taste, then cilantro. Serve with tortilla chips. Makes 6 cups (alot!)
Note: Everything can be adjusted to taste. We used two limes and the jalapeno.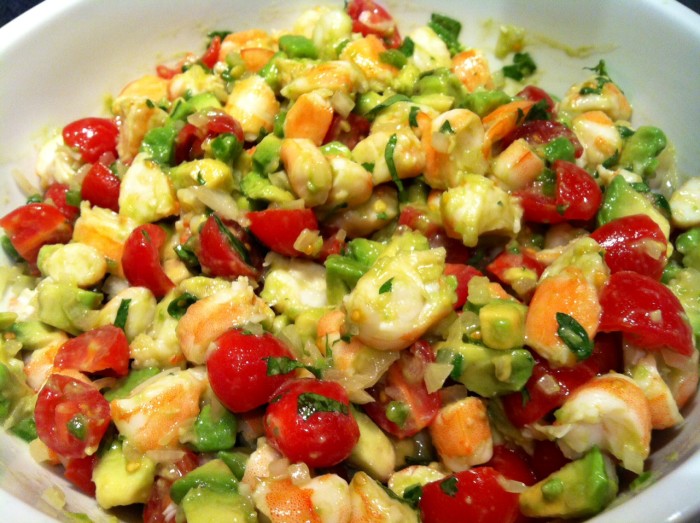 This was one of Bill's Barbecue masterpieces; Beer Can Chicken!