This soup can be whipped up quickly from mostly pantry staples and is perfect for this rainy weather! Barbara Lynch is the chef owner of 7 restaurants in the Boston area, and this is from her cookbook called "Stir". If you have an immersion blender I suggest pureeing the hot soup right in the pan and skipping the straining step which makes it even easier and quicker. I loved the thicker consistency I had pureeing the solids into the soup. I also tossed a couple of minced garlic cloves in towards the end of sauteing the onions, and used chicken broth instead of water for richer flavor.
In her cookbook she serves this with grilled cheese sandwiches, sliced very thin and baked in the oven pressed between two sheet pans. Looks amazing!
2 Tbs. extra-virgin olive oil
1 small yellow onion, peeled, halved, and sliced into 1/4 inch thick slices
1 tsp. red pepper flakes (or to taste, I found 1/2 tsp. plenty spicy)
2 (28 ounce) cans whole tomatoes (I cut them into chunks)
1 1/2 cups water (or chicken broth)
1/4 cup loosely packed fresh basil leaves
Kosher salt
Freshly ground black pepper
Creme fraiche, for garnish (optional)
Heat the olive oil in a large saucepan over medium heat until shimmering. Add the onions and red pepper flakes and cook, stirring occasionally, until the onions are translucent and very tender, about 10 minutes.
Stir in the tomatoes and their juices, plus the water or chicken broth and bring to a boil. Reduce the heat to low and simmer, stirring occasionally until the flavors have melded, about 30 minutes. (If you are in a hurry, you can skip the simmer time, just add a bit less water) Add the basil, season with salt and pepper, remove from heat, and let cool about 5 minutes.
Set a fine mesh strainer over a large heat-proof bowl. Using a blender, puree the soup in batches until smooth, removing the small cap from the bender lid and covering the space with a kitchen towel (this allows steam from the hot soup to escape and prevents the blender lid from popping off.)
Pour the blended soup through the strainer, pressing on the solids with a rubber spatula or ladle; discard the solids. Taste the soup and season with additional salt and pepper as needed.
Return the soup to the saucepan and reheat on medium low until hot. If you choose, top with a tablespoon of creme fraiche. Serves 6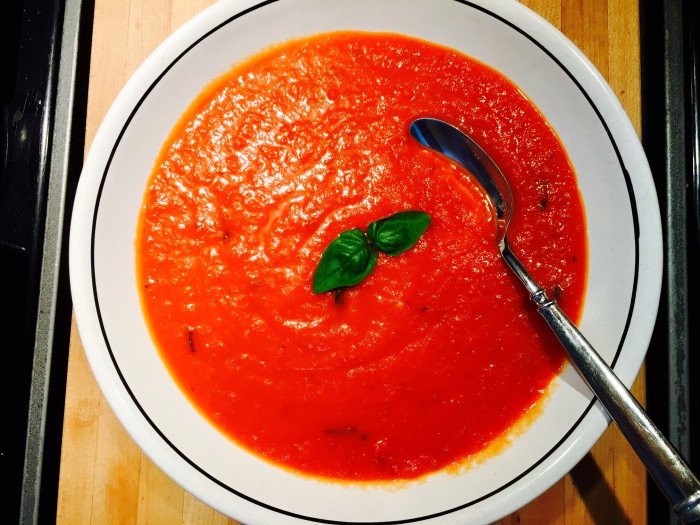 I shared this soup with neighbor Forrest, who returned my bowl with this note: