When iconic super model Kate Moss was asked how she managed to remain so slender for decades, her reply was "Nothing tastes as good as skinny feels!" She has a point, but you still feel like you might want to slap her.  Maybe a piece of this garlic bread might change her mind….
This recipe is from a husband and wife website called Two Peas & Their Pod.  The list of ingredients made my mouth water, and biting into this crunchy, cheesey, garlicy bread covered with ripe tomatoes and fresh basil is such a  treat.  Reducing the Balsamic vinegar brings out the syrupy sweetness, so a drizzle is all you need.  We had this last night along with a chicken Caesar salad, and my husband told me three time how good the dinner was.  I'm pretty sure he wasn't talking about the salad.  I can't wait to serve it as an appetizer, sliced into smaller pieces.
1 Loaf Ciabatta bread, horizontally cut in half
4 Tbs. salted butter
3 cloves garlic, minced
12 oz. fresh mozzarella cheese, sliced
1/2 cup balsamic vinegar
2 medium tomatoes, sliced
salt and freshly ground black pepper to taste
1/3 cup chopped fresh basil
Preheat the oven to 4oo degrees.  Place both sides of the loaf on a large baking sheet with the cut sides up.
In a small bowl, combine the butter and garlic and spread evenly on the bread halves.  Place the mozzarella cheese slices on top of the bread, making sure the cheese covers the bread completely. Bake the bread for 12-15 minutes or until the cheese is melted.
While the bread is in the oven,  make the Balsamic reduction.  Place the Balsamic vinegar in a small saucepan.  Bring the vinegar to a boil, then decrease the heat to low, and simmer, stirring occasionally, until the mixture is reduced by about half.  This should only take about 5-7 minutes. Set aside.
Remove the bread from the oven.  Top the bread with tomato slices.  Season with salt and pepper.  Add the fresh basil and drizzle with the Balsamic reduction.  Cut into slices and serve.
Serves 8 (I think less)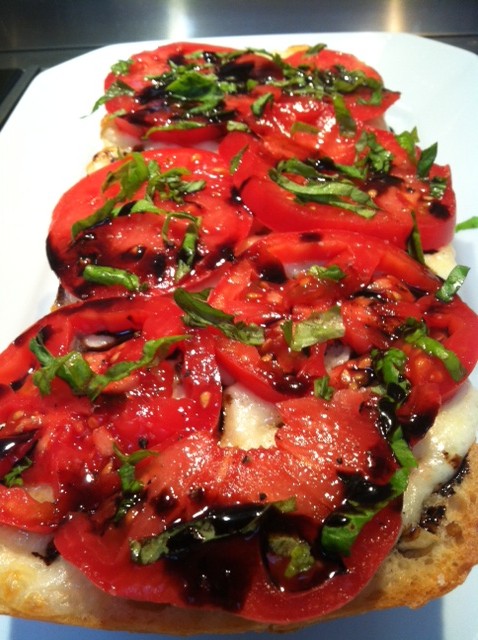 And thank you Lisa for this great picture of you and cousin Dave!