Things have bit a stressful lately and I have been craving Mexican food for comfort. I found this delicious recipe on the blog- Sweet Treats and More. It was spicy and yummy and easy to make. Notes: I used an Organic Rotisserie Chicken to save time and added a few handfuls of chopped green olives because I LOVE them.
2 cups diced or shredded chicken breast meat (or for extra lazy days use a rotisserie chicken)
½ teaspoon ground cumin
½ teaspoon ground coriander
½ teaspoon garlic powder
2 Tablespoons chopped fresh cilantro
1 (15 oz) can black beans, rinsed and drained
1 (4.5 oz) can diced green chili peppers, drained
1 (10 oz) can red enchilada sauce
8 (6 inch) corn tortillas
2 cups shredded Mexican blend cheese
1 (8 oz) container sour cream
Preheat the oven to 375°. Heat a large skillet over medium heat, and spray with vegetable cooking spray. Sauté chicken with cumin, coriander, and garlic power until chicken is cooked through. Transfer to a medium bowl. Stir in the cilantro, black beans, and green chili peppers.
Spread half of the enchilada sauce over the bottom of an 11×7 inch baking dish that has been sprayed with cooking spray. Place 4 tortillas over the sauce, overlapping if necessary. Spoon half of the chicken mixture over the tortillas, and sprinkle with half of the cheese and half of the sour cream.
Spoon the remaining enchilada sauce over the cheese, and make another layer of tortillas. Layer the remaining chicken mixture over the tortillas.
Cover dish with a lid or aluminum foil. Bake for 30 minutes in the preheated oven.
Remove the cover, and sprinkle the remaining cheese over the top and dot with sour cream. Continue cooking, uncovered, for an additional 5 to 10 minutes, or until cheese melts.
Let stand 10 minutes before serving.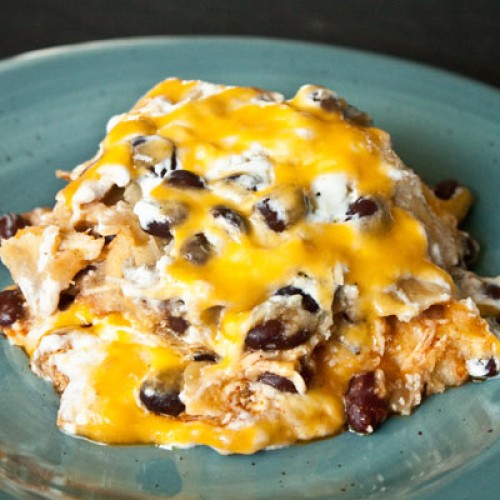 (photo from Sweet Treats and More)