April Bloomfield's Spotted Pig restaurant in the West Village of New York City doesn't take reservations, and it's packed from 5:30 on daily. One must-have order for every table is the chargrilled burger made from a combo of minced brisket, chuck, and rump (aka sirloin); with a dressing of Roquefort cheese, creme fraiche, garlic, vinegar and olive oil. This comes with a mound of shoestring fries as famous as the burger.
So get out that spiralizer machine you bought to try that zucchini recipe, and then forgot you owned! It's about to pay for itself with these fries. Cooking Light magazine was inspired to try and recreate the Spotted Pig version with an oven baked and therefore healthier one, and I think they nailed it. Potatoes are run through the spiralizer to make thin strands, and then tossed with oil and garlic and baked until crispy. Sprinkled with rosemary and salt they are irresistible.
2 lb. russet potatoes
3 1/2 Tbs. olive oil, divided
3 large garlic cloves, thinly sliced
2 Tbs. fresh rosemary leaves
1 tsp. salt
Preheat oven to 425 degrees. Run potatoes through a spiralizer using the fine blade to make thin strands (one size larger than angel hair, or may be the smallest on your machine) Cut the strands into pieces no longer than about 6 inches.
Combine potatoes and 3 Tbs. of olive oil in a large bowl; toss well to coat. Arrange potato mixture in a single layer on 2 rimmed baking sheets lined with parchment paper. Bake at 425 degrees until lightly browned, about 18 minutes.
Stir together the garlic slices and remaining 1 1/2 tsp. oil. Divide garlic mixture evenly between the two pans; toss gently to combine and to ensure all potato pieces brown evenly. Rotate pans from top rack to bottom rack, and bake until browned and crispy, 10 to 12 minutes, gently stirring every 3 minutes.
Remove pans from the oven; combine all potatoes and garlic on one pan. Sprinkle with rosemary and salt; toss gently to combine. Serve immediately.
Serves 8 (??) I think not!
Note: I made half this recipe on one pan, and only tossed it when I added the garlic. We loved it and ate it all.
This picture is the Spotted Pig burger and shoestring fries.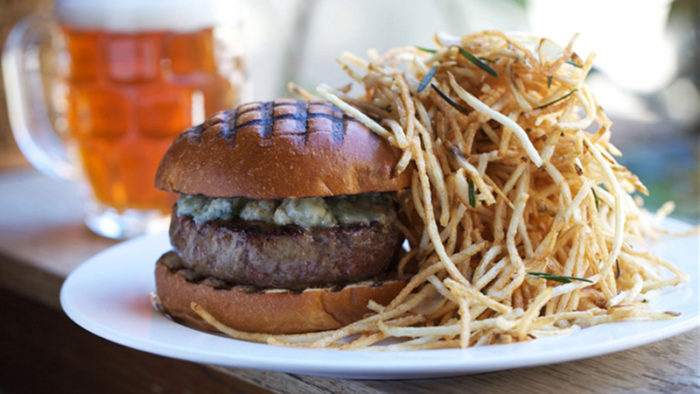 These are my healthy fries!