Hi All,
Brittany here. I am posting this recipe for my mom today for she is celebrating her Birthday in Europe! What a lucky and deserving duck. They met my Aunt Laura and Uncle Anton at their home in Weggis, Switzerland a few days ago and now they are in France. I spoke to my mom this morning to wish her a very Happy Birthday and she said they were having tea in Monet's Garden in Giverny on a beautiful, sunny Spring day. Um, it's going to be hard to ever top this Birthday. I love you so much, Mom. You are such a brave, kind, and wonderful woman. Enjoy the rest of your trip, and please come back! xo
Here is my mom's scalloped potato post. A fitting post on her Birthday for I don't know anyone who loves this hearty vegetable more than my mother.
-/-
I'm not sure I've ever had BAD scalloped potatoes, but I think this just may be the best I've ever tasted.  It is Jacques Pepin's contribution to Gourmet Magazine's cookbook, and will be on my holiday tables from here on out.  The paper thin slices of potatoes surrounded by creamy goodness topped with golden brown cheese just melts in your mouth.  You will need a mandolin or some type of adjustable blade slicer (mine is plastic, cost $12 and made short work of the slicing.)  And this reheats beautifully…make it a day ahead, cool completely, then refrigerate, covered.  Bring to room temperature before reheating, covered, in a 350 degree oven.
2 1/2 lbs. boiling potatoes, such as Yukon Gold
3 1/2 cups half and half
2 large garlic cloves, minced
1 tsp. salt
1/4 tsp. freshly ground black pepper
1/8 tsp. freshly grated nutmeg
3/4 cup coarsely grated Gruyere cheese
Put a rack in the middle of the oven and preheat to 400 degrees.  Generously butter a 2 1/2 to 3 quart gratin dish or other shallow baking dish.
Peel potatoes. Cut crosswise in 1/16 inch thick slices with the slicer and transfer to a 4 quart heavy saucepan.  Add half and half, garlic, salt and pepper and bring just to a boil over moderate heat.
Pour potato mixture into buttered dish, distributing potatoes evenly.  Sprinkle nutmeg and cheese evenly over the top..  Bake until potatoes are tender and top is golden brown, 35 to 45 minutes.  Let stand 15 minutes before serving.   Serves 8.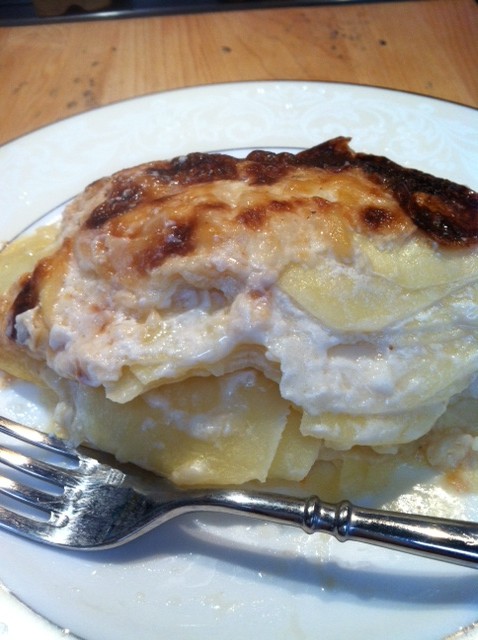 Hilary & Casey on the Rigi in Switzerland!