Kuleto's is a great Italian restaurant just off Union Square in San Francisco; been around for years. It holds a special place in my heart, because after Jimmy died that is where my family began meeting in mid-December for a Christmas dinner. Traditions often need to change after a loss, and the annual Christmas celebration alternating between my parents home and my own was at an end. Now my Dad is missing from the head of the table as well….It's odd how we all took it for granted that when the family gathered in a restaurant, Dad always paid the bill.  Dividing up the check with your middle-aged siblings feels awkward, and shines an unwelcome spotlight on the missing patriarch; holidays even more painfully.
When we are in San Francisco over a weekend, Casey and I never miss the Sunday morning Glide Memorial Church's totally rocking gospel service @ Taylor and Ellis, (9:00 and 11:00 a.m.)  There are always people in the crowd from all over the world and a line out the door  to hear the amazing choir and sophisticated jazz band. The church's outreach work within the community would warm the coldest heart. It will be the most memorable part of your weekend, no doubt.
This soup is rich, hearty and amazingly flavorful.  It's a bit time consuming with all the dicing of the vegetables and herbs, but I think its one of the best versions of this soup I've tasted. I highly encourage  doubling the recipe…..you will wish there was more when it's gone.
3 Tbs. olive oil, divided
2 ounces diced pancetta (Trader Joes sells a 4 oz container perfect for this)
1/2 cup finely diced onion
1/2 cup finely diced carrot
2 Tbs. finely diced fennel bulb
1/3 cup finely diced celery
3/4 tsp. minced garlic
1 1/2 tsp. chopped thyme
3/4 tsp. chopped rosemary
2 1/2 tsp. chopped basil
1 (14.5 oz.) can diced tomatoes
2 cups chicken broth
salt and pepper
1/2 cup sliced mushrooms
1/4 cup diced zucchini
1/2 cup diced broccoli rabe
3/4 cup cooked orzo pasta (from about 1/4 cup uncooked)
1/2 cup cooked white beans
2 1/2 tsp. chopped parsley
2 to 3 Tbs. basil pesto, divided
In a large heavy-bottomed saucepan, heat 1 Tbs. oil over medium-high heat until hot.  Add the pancetta, onion, carrot, fennel, celery, garlic, thyme, rosemary and basil, and sauté until the vegetables are lightly softened and the mixture is aromatic, about 5 minutes.
Stir in the diced tomatoes with the juices, and the broth, and bring to a boil over high heat.  Reduce the heat to a gentle simmer, cover the pan, and cook the soup base until the flavors are married and the vegetables are soft, about 45 minutes.  You should have about 1 quart soup base (add additional water if needed to bring volume to 1 quart).  Taste and season with 1/2 tsp. salt and 1/4 tsp. pepper, or as desired.
When the soup base is almost done, prepare the mushrooms and the rest of the vegetables.  In a medium, heavy bottomed pot, heat the remaining 2 Tbs. oil over medium high heat.  Stir in the mushrooms, zucchini, and broccoli rabe until crisp tender and lightly colored, 6 to 8 minutes.
Stir in the soup base, the cooked pasta and beans, and the chopped parsley, and cook until the soup is hot.  Taste once more, and adjust the salt and pepper.  This makes about 1 1/2 quarts of soup. Ladle the soup into bowls and garnish each with 1/2 Tbs. of pesto.  Serves 4-6.
Note: This is a long list of finely chopped ingredients! Some of the amounts are so small that it really makes sense to double the recipe ( I think I'm repeating myself!).  Its helpful to do all the prep work before you begin. I used Ditalini shaped pasta as I like to see it in the soup, but any small shape would work. Pesto is really optional, but it can be purchased in any large market and adds a richness.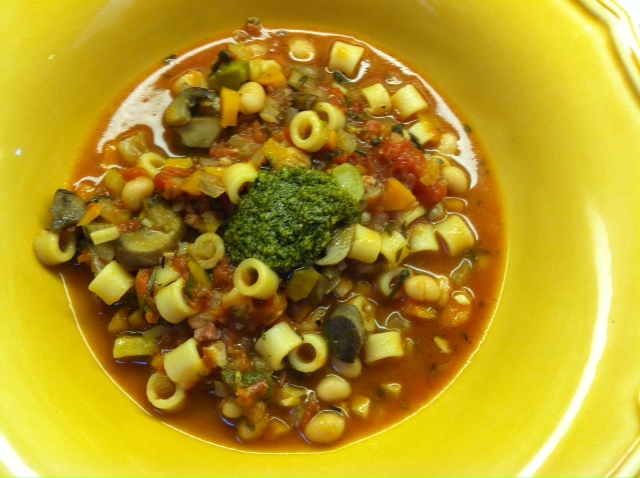 12/17/2014     Received this photo from Deb Sanborne dining with her daughter at Kuleto's and enjoying the Minestrone!