I have loved every one of Ruth Reichl's memoirs; all filled with warmth, humor and wonderful  recipes.  Her latest book is her first novel, starring a woman named Billie, who, like Ruth; lost her job when her legendary food magazine's publisher decided to  close up shop.  ("Delicious" in the book, "Gourmet" magazine in real life.)  Of course food plays a big part in this novel as well, but this latest best-seller only contains one recipe – Billie's Gingerbread.  It's referred to off and on in the story and finally given to us on the last page.  My first reaction was the same as yours -this better be good. You be the judge!
Billie introduces the recipe by saying, " I have so many memories wrapped up in this cake.  All I have to do is start grating ginger and I'm ten years old again…..Is my gingerbread as good as the one my mother made?  How could I possibly know?  But I do know this: it's good enough."
Cake:
whole black peppercorns
whole cloves
whole cardamom
1 cinnamon stick
2 cups flour
1 tsp. baking powder
1 tsp. baking soda
1/2 tsp. salt
3 large eggs
1 large egg yolk
1 cup sour cream
1 1/2 sticks (6 ounces) unsalted butter at room temperature.
1 cup sugar
2 large pieces fresh ginger root (1/4 cup, tightly packed, when finely grated)
zest from 2 to 3 oranges (1 1/2 tsp. finely grated)
Preheat oven to 350 degrees.  Butter and flour a 6-cup Bundt pan.
Grind your peppercorns, cloves and cardamom and measure our 1/4 tsp. of each. (You can use pre-ground spices but the cake won't taste as good.)
Grind your cinnamon stick and measure out 1 tsp. (Again, you can use ground cinnamon if you must.)  Whisk the flour with the baking powder, baking soda, spices, and salt in a small bowl.
In another small bowl, whisk the eggs and egg yolk into the sour cream. Set aside.
Cream the butter and sugar in a stand mixer until the mixture is light, fluffy, and almost white.  This should take about 3 minutes.
Grate the ginger root -this is a lot of ginger- and the orange zest.  Add them to the butter/sugar mixture.
Beat the flour mixture and egg mixture, alternating between the two, into the butter until each addition is incorporated.  The batter should be as luxurious as mousse.
Spoon batter into the prepared pan and bake for about 40 minutes, until cake is golden and a wooden skewer comes out clean.
Remove to a rack and cool in the pan for 10 minutes.
Soak:
1/2 cup bourbon
1 1/2 Tbs. sugar
While the cake cools in its pan, simmer the bourbon and the sugar in a small pot for about 4 minutes.  It should reduce to about 1/3 cup.
While the cake is still in the pan, brush half the bourbon mixture onto its exposed surface (the bottom of the cake) with a pastry brush. Let the syrup soak in for a few minutes, then turn the cake out onto a rack.  Gently brush the remaining mixture all over the cake.
Glaze:
3/4 cup powdered sugar, sifted or put through a strainer
5 tsp. orange juice
Once the cake is cooled, mix the sugar with the orange juice and either drizzle the glaze randomly over the cake or put it into a squeeze bottle and do a controlled drizzle.
Note: I felt guilty not grinding my spices; sorry Ruth.  She suggests making this a day ahead and wrapping in plastic for flavors to intensify.  This is not a heavy cake as often gingerbreads are, but spicy with a lovely light crumb. I served it with fresh berries and it was a hit!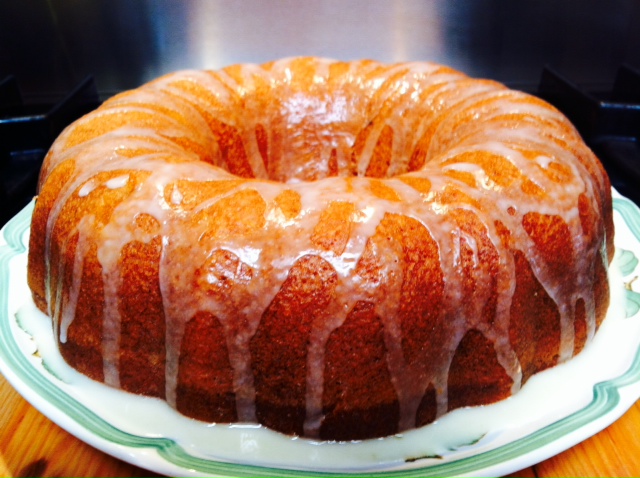 Adding an update on january 15th 2015…    Billie's job  after the magazine was closed was to continue to answer readers requests for recipes, which was something Gourmet magazine was known for.  I have just found among my Mother's treasure trove of recipe clippings just such a request and their response! It is undated, but the stationery is so of another era and the photocopied recipe scotch taped to the page, so you know it is ancient.