Here's a lovely breakfast treat that started as a popular farmers market stand specialty, and lead to the opening of a cafe/bakery in the Catskills in New York. Two Old Tarts serves lots of gorgeous pastries, but this is the recipe that got them started. They sell it as a coffee cake; this is a muffin version.
1 cup pecans
1 cup packed dark brown sugar
1 1/2 tsp. ground cinnamon
1 stick plus 2 Tbs. unsalted butter, softened
1 3/4 cups all purpose flour
1 tsp. baking powder
1/2 tsp. baking soda
1/2 tsp. kosher salt
1 cup granulated sugar
3 large eggs
1 cup sour cream
1 1/2 tsp. pure vanilla extract
Preheat the oven to 400 degrees and line 18 muffin cups with paper or foil liners. Spread the pecans in a pie plate and toast in the oven until fragrant and lightly browned, about 7-8 minutes. Let cool completely.
In a food processor, combine the pecans with the brown sugar, cinnamon and 4 Tbs. of the butter and pulse until the pecans are finely ground and the crumb topping resembles wet sand.
In a medium bowl, whisk the flour with the baking powder, baking soda and salt. In a large bowl, using a hand mixer, beat the remaining 6 Tbs. of butter with the granulated sugar at a medium speed until fluffy, 1 to 2 minutes. Beat in the eggs 1 at a time until incorporated, then beat in the sour cream, vanilla and 2 Tbs. of water. Beat in the dry ingredients.
Spoon half of the batter into the prepared muffin cups and sprinkle with one-third of the crumb topping. Top with the remaining batter and sprinkle the remaining crumb topping evenly over the batter. Bake for about 25 minutes until the tops are browned and a toothpick inserted in the center of a muffin comes out clean. Transfer the muffins to a rack to cool for 10 minutes. Serve warm or at room temperature. Muffins can be stored in an airtight container for up to 2 days.
Note: Rotate muffin pans during baking to keep one from browning more than the other; don't overbake!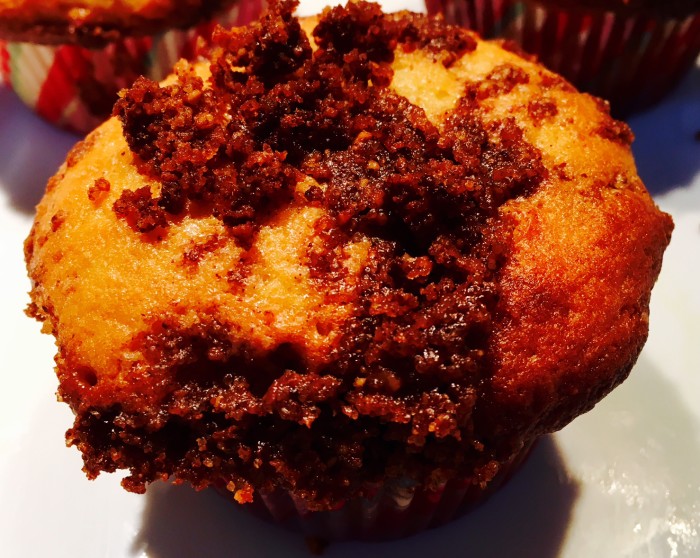 Assistant chef Hunter Kirby anxiously oversees the baking!