This is a richly spicy and filling soup from the Tarascan region of Mexcio.  "Tarascan" translates into the  "fierce people", who earned that distinction as the only population in the state of Michoacan whom the Aztecs tried and failed to conquer, and the last native group to fall to the Spanish. This may be the original inspiration for tortilla soup.  It's vegetarian and healthy as long as you go light on the chips and cheese…but please don't leave them out! This was our New Year's Day football watching meal -easy to make and a forgiving recipe for a distracted cook.
1 Tbs. olive oil
1 cup chopped onion
4 large garlic cloves, minced
1 28-ounce can diced tomatoes, undrained
2 15-ounce cans pinto beans, undrained
2 tsp. chili powder
1 tsp. ground cumin
1/2 tsp. hot sauce (more if desired)
1/4 tsp. salt
1 16-ounce can chicken broth
1 cup (4 ounces) shredded Monterey Jack cheese (or more)
1 cup broken tortilla chips (or more)
Avocado, sour cream ,and cilantro (optional)
Heat the oil in a large Dutch oven over medium high heat.  Add the onion and garlic; saute 3 minutes.  Stir in tomatoes; cook 5 minutes.  Place the beans in a blender or food processor; process until smooth.  Add the beans, chili powder, cumin, hot sauce, salt and broth to the pan; bring to a boil.  Reduce the heat to medium low; cook 18 minutes.  Serve topped with the chips and cheese, and sour cream, chopped cilantro and sliced avocado if you wish.  Serves 3- 4 as a main course.  If made ahead you may need to thin with chicken broth when reheating.
Note: I used a grated mixture of Mexican cheeses , and only one 15 ounce can of tomatoes (which I personally prefer).  I had recently purchased an annoyingly expensive bottle of ancho chili powder for a specific recipe and used that, but any type would be fine.  This recipe came from a fantastic Mexican restaurant in Santa Barbara whose name I have lost! So wish I could give them credit.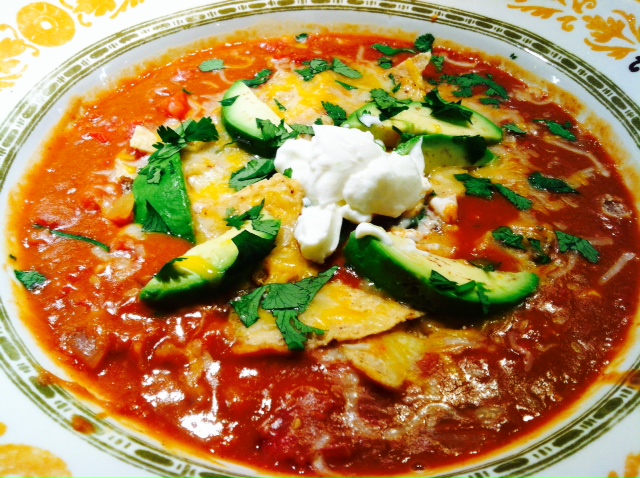 And Melinda Norcott sent her lunch photo with a thank you – now aren't you really tempted to try this?