We have just returned from a hiking trip in the Cotswolds; a glorious wandering through picture book villages, wheat fields and hill sides dotted with sheep. I came home wanting to build a rock wall covered with climbing roses in front of our house; but I'm not sure that's happening! What I DID successfully bring back is this recipe for a classic British tea time treat; the favorite cake of Queen Victoria.
Our trip was run by the first class Back Roads company, which has hiking and biking trips all over the world. The Inns are gorgeous, meals amazing, and the most amusing guides are beyond charming and helpful. They seem to know what you're going to want next before you do!
At lunch one day at Prinknash Monastery we were served a variety of cakes baked in their kitchens, and my favorite was the Victoria Sponge. Along the trail later our ever-so-lovely guide Holly Thomson described to me how to make it, and then sent me a photo of her Aunt Rosie Russell's version. I am using her beautiful photo as I had Wyatt and Hunter, age 3 and 6, assist with my baking; and I doubt my photo would inspire anyone to try this recipe. Tasted delicious however!
I found this recipe by Felicity Cloake in the Guardian newspaper. She made different versions published by well known British cooks, and thinks this is the best. I had never seen the method used of weighing the eggs in their shells, and then matching the same amount of butter, sugar and flour before; but this appears to be common in baking. It only takes a moment to do, and insures the perfect ratio of ingredients -brilliant! (if you don't find this step amusing, my extra-large eggs weighed about 7 ounces, so I used 7 ounces of butter, 7 ounces sugar and 7 ounces flour.) There are countless ways to fill this "sandwich" cake – whipped cream, sliced berries etc., but Holly was adamant that the buttercream filling was essential.
3 large eggs, weighed in their shells
The same weight of soft lightly salted butter, caster sugar* and self-rising flour*
1 tsp. baking powder
generous pinch salt
2 Tbs. milk
5 Tbs. raspberry or strawberry jam
caster sugar to top
For the buttercream:
3 ounces butter, softened
6 ounces powdered sugar
tsp. vanilla
2 tbs. cream
Preheat the oven to 350 degrees and grease and line two 8 or 9 inch cake pans with parchment paper. Put the butter and sugar into a food mixer, or use a hand mixer to combine until light and really fluffy-this should take a good couple of minutes.
Scrape down the sides, beat the eggs together, then add them to the mixture a little at a time. Scrape the sides of the bowl down to make sure everything is mixed in properly. Fold in the flour, baking powder and a pinch of salt, then add enough milk so that the mixture drops easily off a spoon, but does not run off. Divide evenly between the tins, smooth the top and put in the oven for 24-30 minutes until golden and well-risen: a skewer inserted into the centre should come out clean.
Allow to cool in the tin for 10 minutes, then put, flat-side down, on a wire rack to cool completely. Meanwhile, make the buttercream by beating the butter until light and fluffy, then adding the sugar and cream and a pinch of salt. Beat together well, then set aside until cake is cool.
To assemble the cake, put the least favored cake, whichever it is, on to a plate or stand, and spread generously with jam. Top with a layer of buttercream, then add the second cake, flat-side down. Dust the top with caster sugar, and devour.
Note: Castersugar is superfine or bakers sugar -you can use regular granulated instead. Self-rising flour is flour with baking powder added. Instead of buying it I just added an additional tsp. of baking powder to the recipe.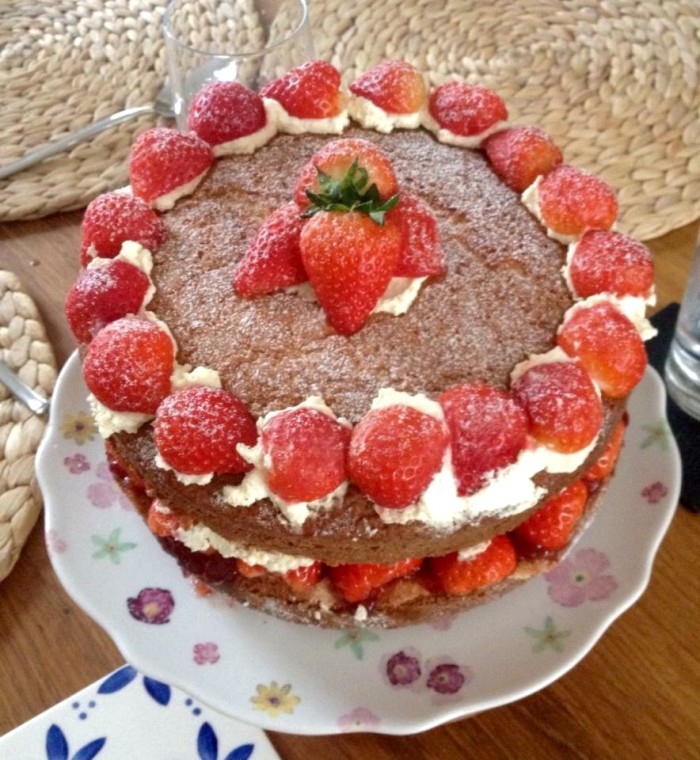 Back Roads picnic lunch at Sudley Castle,home of Queen Katherine Parr, the last of Henry VIII's six wives. Yes. it is possible to gain a pound or two on a hiking trip..