Today is my sweet Mother's 90th Birthday!!! She has inspired my life-long love affair with food, and is the reason I associate cooking with Love. I can still picture her before dinner in her lovely kitchen, listening to her small radio and chopping and dicing away. This recipe was her special appetizer that was served to guests and appeared at holidays.
One year for Christmas she asked for the latest cooking appliance from France, something exciting and sophisticated called a "Cuisinart" . If I am remembering correctly, this pate was in the recipe booklet that came with the machine, and it does make perfect use of it. It is fairly simple to make and very impressive. You combine cooked chicken with smoky almonds, onion, Tabasco, brandy and a little melted butter, and puree until smooth. Place in a mold or bowl and chill until serving time. I remember the first time my young children were presented with this, and I thought at best they would just nibble on the crackers. To my surprise they gobbled it up! When I made it last weekend to take to our friends for dinner, both Brittany and Casey demolished the leftovers; saying how much they remember enjoying it all those years ago. So Mom, in honor of this landmark birthday, it's Back!
I'm going to transcribe the recipe just how it was presented to me half a lifetime ago.
Soak 1 tablespoon unflavored gelatin in 1/2 cup water to soften, then bring to a boil. Combine with 2 cups chopped cooked chicken, 1 1/2 cups coarse chopped onion, 1/2 c. ground smokehouse almonds (6 ounces), 1/4 cup mayonnaise,, 1/4 teaspoon salt, dash pepper, dash Tabasco, 2 tablespoons melted butter and 2 tablespoons brandy. Place 1/3 mixture in blender or Cuisinart and combine until fairly smooth. Repeat with remaining mixture. Spoon into small bowl or 3 cup mold. Chill several hours or overnight. Unmold on lettuce leaves and serve with rye crackers (or other cracker), cornichons or sliced pickle.
Note: Today's Cuisinarts are larger, so no need for three batches to puree this. You can buy cocktail rye bread and dry it in the oven to make a rye cracker. I served it with small gems lettuce leaves for the ones on a low carb diet!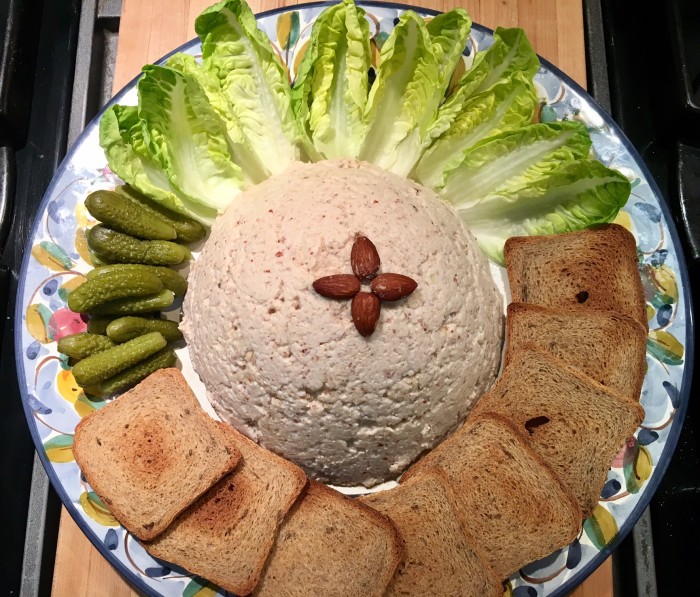 Mom making Christmas cookies with her grandchildren in 1987.