This is our first Appetizer recipe!  When we started Heronearth, the mission was to find recipes that would provide comforting meals for friends needing love and support in times of emotional upheaval…new babies, loss of loved ones, moving day and all the rest of our traumatizing human experiences.   Appetizers weren't really required. But it was pointed out to me recently that we have evolved, and who doesn't need some really good appetizer recipes?  Terri Stampley, a truly gifted hostess and immensely talented cook, served this to a houseful of guests (lucky us included) at Lake Tahoe last week, and we gobbled it right up.  A great start to our new category!
2 plum tomatoes, chopped
2 avocados, chopped
1/4 cup red onion, chopped
2 Tbs. cilantro, chopped
1 Tbs. olive oil
1 Tbs. lemon juice
6 to 8 ounces of crumbled feta cheese
Fresh corn cut off one cob
1/2 of one serrano  chili, seeds removed, minced.
Mix all of the above, cover and chill for 4-6 hours.  Serve with tortilla scoops.  Serves 4 to 6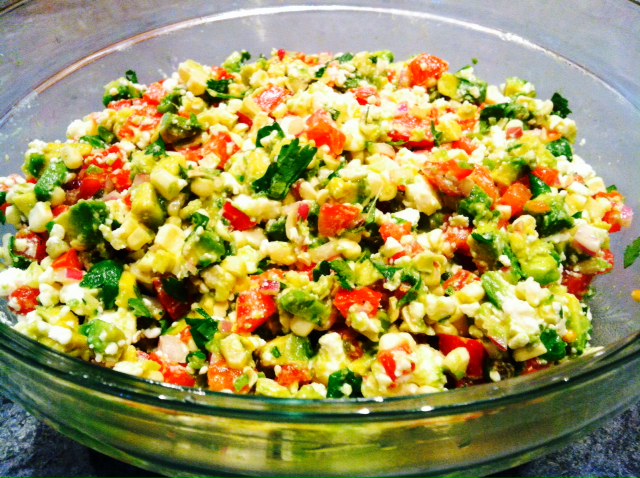 Tahoe Sunset photo courtesy of Dana Gabriel