Dorie is a world famous baker with numerous cookbooks, twice winning "Cookbook of the Year". She lives in NYC, Connecticut and Paris, and is most known for her cookie recipes and French family fare. "It takes longer to preheat the oven than to put these cookies together" she says.
These cookies were a revelation to me; gluten-free, fat-free, guilt-free and irresistible! Perfect with a cup of tea, or in my case as a light bite of crunchy sweetness after a heavy Superbowl Mexican menu. I actually would change the name to 4-ingredient cookies, because a sprinkle of sea salt over the tops right after removing the pans from the oven makes a huge difference, I think. A few drops of vanilla in the batter is also a nice idea. You could add anything else to this if you wished; chocolate chips, raisins, etc. but they are wonderful just plain. Toasted nutty flavor with just a touch of chewy sweetness.
6 Tbs. (75 grams) sugar ( I used brown)
1 large egg
1 1/4 cup (125 grams) sliced almonds (blanched or unblanched)
THAT'S IT!
Position the raks to divide the oven into thirds and preheat it to 325 degrees. Line two baking sheets with parchment paper or silicone baking mats. Have a small cookie scoop or a teaspoon at hand.
Whisk the sugar and egg together in a bowl for a minute or so, until well-blended and just a bit thick. Add the almonds and whisk until evenly coated with the mixture. You need to use the batter right away- it separates as it stands. In fact, it's good to give the batter a stir or two as you're spooning it out.
Each cookie needs 2 teaspoons of batter. Scoop the batter onto the baking sheets, leaving at least 2 inches of space between the mounds of batter, and flatten each mound with the back of a fork.
Bake for about 20 minutes, rotating the pans midway through baking. The cookies should be toasted-almond beige, and dry and crackled on top. Transfer the baking sheets to racks and let the cookies cool for about 10 minutes.(Important to let them cool so they won't stick!) Carefully lift the free-form cookies with a wide spatula.
Note: If your kitchen is cool and dry, you can keep these in a tin or paper bag overnight. Keep them longer and they might soften, a condition easily reversed: Place the cookies on a lined baking sheet and warm them in a 350 degree oven for about 6 minutes. Cool on the sheet. Makes 20 cookies.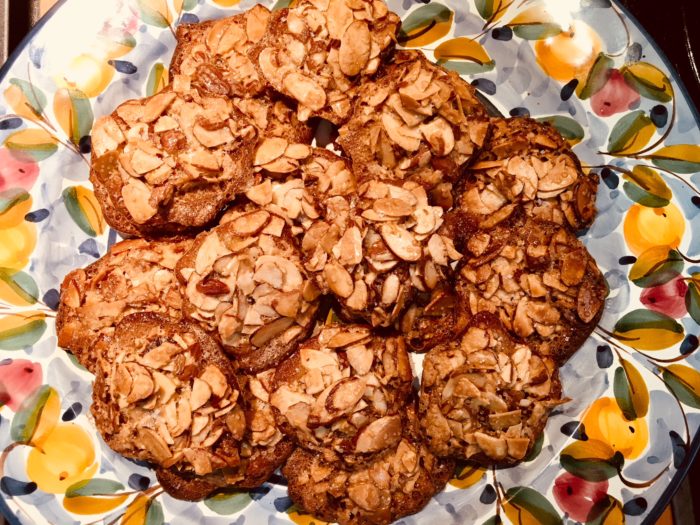 Made these again with grandson Hunter, aged 5, who really thought chocolate chips were necessary, not optional. Have to say adding chocolate really improved an already great cookie; these are the only 3 left and not for long! And don't forget that sprinkle of sea salt!