Mustard Grill is our favorite stop for lunch when entering Napa for a wine country vacation. The locals have nicknamed it "the fancy rib joint with way too many wines." I remember a curry slaw they were known for awhile back, but this one from their cookbook is also really special. Thinly sliced cabbage, bell pepper and carrots are tossed with a flavorful heated dressing, then refrigerated until serving time.
Last weekend in Lake Tahoe our amazing hosts at "Camp Stampley" served this slaw in a soft bun over pork that was slow roasted for hours in the Green Egg smoker. My mouth is watering just typing that last sentence. A perfect combination.
1/2 to 3/4 head green cabbage, thinly sliced
1 red bell pepper, seeded and thinly sliced
2 carrots, grated
1/3 cup sugar
1/2 tsp. celery or cumin seeds, toasted and ground
1 tsp. dry mustard powder
1 to 1 1/2 tsp. salt
1/4 tsp. freshly ground black pepper
1/3 cup cider or distilled vinegar
2/3 cup extra virgin olive oil
Put the cabbage, bell pepper, and carrots in a large bowl and mix well. To make the dressing, combine the sugar, celery seeds, mustard, salt and pepper in a small saucepan. Gradually whisk in the vinegar and olive oil to avoid lumps. Bring to a boil over high heat and cook for 1 minute. Pour the hot dressing over the slaw and toss, mixing well. Cover and refrigerate until needed.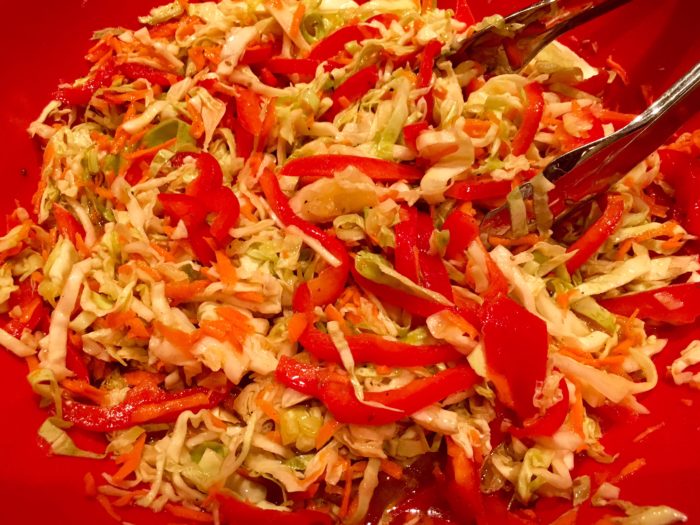 Happy Campers!