Lovely Lisa Dahl is the executive chef and owner of  two utterly fabulous restaurants in Sedona, Arizona. When  my friend Cathie Canepa returned from a family trip there last week, she told me about meeting Lisa while they dined at Dahl & Di Luca, and lent me Lisa's cookbook called The Elixir of Life.  To say I was blown away would be an understatement.  The photography is stunning; both of her delectable dishes and of her travels to Italy, which influence her lusty, rustic cooking style.  Cucina Rustica is her second restaurant, and the photos of both are nothing short of magical.
How she got to Sedona is a story I will never forget. Lisa was living in Marin County with her adored son Justin, who loved cooking and dancing and music as much as she did. They always planned on opening a mom and son restaurant together.  On Palm Sunday 1994, he rode over the Golden Gate bridge on her bike and never returned.  He encountered a robbery in progress and, acting as a good Samaritan, lost his life. Breathtakingly incomprehensible…
A year later Lisa packed up and moved to Sedona, knowing no one and with no idea what to do with her life.  During an unusual December snowstorm, she looked out her window, and "As I silently asked  for strength and guidance, an amazing double rainbow formed across a haunting indigo blue-black sky. I received my answer and never looked back." Justin is her strength and inspiration, and his spirit remains a presence in her life. From my own experience, I have no doubt this is true.
I wrote her to ask if I could share her story and a recipe on Heronearth, and she answered almost immediately with the most gracious  of responses.  Perhaps it's time to change our slogan to her mantra," When you cook with love you feed the soul".  What an extraordinary and inspiring person! I may be traveling to Sedona before long……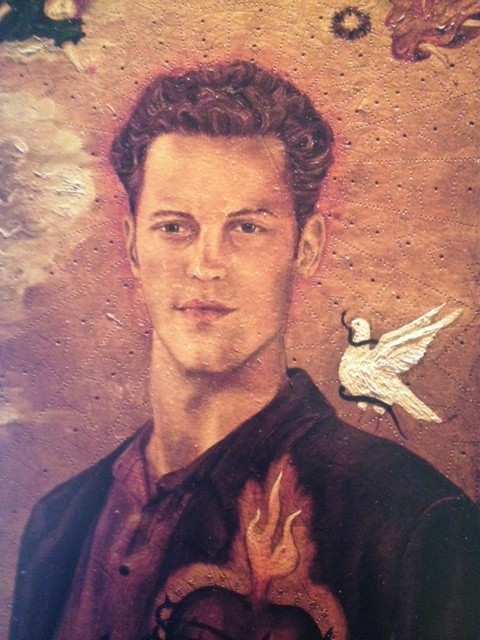 Lisa calls this recipe Tuscan soul food. Serve the heated sauce over bowls of warm polenta.
For The Sauce
3/4 ounce dried porcini mushrooms
1/2 cup extra virgin olive oil
3 cups finely diced zucchini (about 2 or 3 zucchini)
1/2 Bermuda onion in medium dice
1 tsp. kosher salt
1/2 tsp. freshly ground black pepper
1/2 cup coarsely chopped parsley
2 cups good quality purchased Marinara Sauce
Cover the mushrooms with 4 cups tepid water and soak for 45 minutes to an hour.  Put the olive oil in a heated medium sized saucepan. When hot, add the diced zucchini and onions.  Cook them evenly until they are soft and golden on all sides, sprinkling them with the salt and pepper as they are sautéing.
Lift the soaked porcini from the soaking liquid, taking care not to disturb any sediment at the bottom of the bowl.  Pour the soaking liquid through a sieve into the sauté pan with the zucchini and onions.  Add the porcini.  Continue cooking gently until the liquid evaporates and you begin to see the vegetables and mushrooms peeking through.  Add the marinara and parsley and simmer until the sauce has thickened naturally and has a robust color and flavor.  This doesn't require a long cooking time because so much earthy flavor is captured in the porcini soaking water.
Note:  I wanted to serve this as part of a buffet for my book club, so I sliced a tube of prepared polenta into circles about 1/2″ thick, topped them with the sauce made the day before and baked them in a 350 degree oven about 20-25 minutes.  Sprinkle with Parmesan cheese and some basil if desired. I gave some of the sauce to my neighbor Forrest, who said he is enjoying it as a dipping sauce with good bread.